What is a healthy, vital church? It is a faith community dedicated to helping people meet, know and serve Jesus. It is a congregation that expresses care and compassion for both its members and its community. It has leaders that know, own and live out the clearly-stated mission, vision and values of the church. It experiences numerical and spiritual growth.

What is a healthy, vital church? It is your church – or at least it can be! God calls every church to be a healthy, vital church. Small, large or mid-size, every church can be filled with spiritual energy and life. New or celebrating its 100th birthday, every church can reach new people with the life-changing message of Jesus. Rural, suburban or urban, every church can be filled with joy, hope and peace.

How do you measure whether a church is healthy and vital in an objective and meaningful way?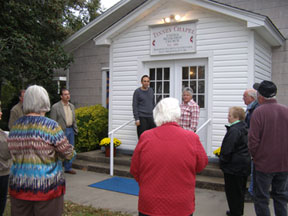 The answer is the Church Transformation Survey. It is a ten-item objective tool to help bring perspective and reality to the discussion about transformation. It measures elements of the life, ministry and experience of the church. After completing the survey, a score is calculated which leads to placing the church in one of three broad categories – Transforming, Maintaining or Dying.
The Church Transformation Survey is available to local churches through DNA Coaching. Authored by Dr. Don Nations, it is being used across theUnited Statesby judicatories, conferences, districts and local churches. Contact DNA Coaching today for information about licensing the Church Transformation Survey.
[NEW!!] DNA Coaching is pleased to announce a new option for judicatories. DNA Coaching can provide a professional statistical analysis of the results of the Church Transformation Survey across the judicatory (district, association, conference, diocese, denomination) and provide a report on the health of the judicatory and make recommendations to strengthen the transformation efforts of the judicatory. Contact us today for more information.